Improve speed of service and decrease counter crowding by quickly locating customers for efficient order delivery. Flybuy Tableside gives customers the opportunity to relax as their order is being prepared, instead of waiting by the counter. With our technology, employees can locate customers at any time for delivery and personalized engagement.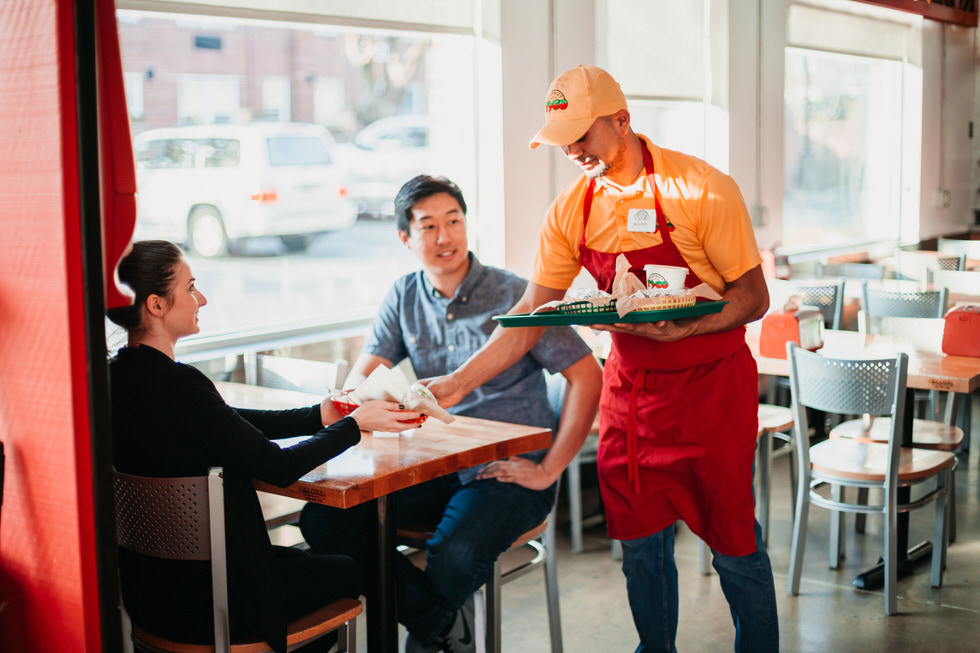 Increase Speed of Service
Drive Brand Loyalty and Repeat Visits
Flybuy Tableside is designed to help restaurants locate customers for order delivery and engagement. Our wireless solution enables staff to know exactly where a customer is located and for what length of time. Flybuy Tableside is instrumental in solving common dining problems, including counter crowding, long wait times, and inefficient use of staff.
In-depth analytics and reporting
Reduces waste from wrong orders
Increases revenue per order
Streamlines operations for wait staff
Ability to engage and upsell customers on property or nearby
Locate your customer within your venue for order delivery, upsell opportunities, and personalized engagement. Whether you need to find your customers for food and beverage delivery, monitor employees, or track assets within a venue, Radius Networks can provide the perfect in-house solution. The advanced analytics portal allows businesses to view and report on key business metrics that help better understand customer and staff behavior, including traffic flow, heat maps, and order delivery metrics.
Fast and accurate order delivery
Order Placed
Customer places order from mobile, kiosk, or counter.
Customer Awaits Order
Customer finds a seat anywhere and relaxes.
Staff Alerted to Customer Location
Real-time updates of customer's location is reported to staff.
Order Delivered
The order is delivered to the exact location of the customer.
Radius Networks is a location technology company focused on helping businesses locate, engage, and transact with their customers for order delivery, messaging, and tracking.
What Customers Are Saying About Flybuy
"The system has cut wait times from an average of eight minutes to practically zero."
"We saw the need for a curbside and in-store pickup solution during the COVID-19 crisis, and all indicators point to an increase in off-premise demand. Flybuy helps us create a great customer experience with a frictionless experience for the customer, while also increasing efficiencies for our staff inside the restaurant. Whether the customer wants curbside, in-store pickup or delivery, Flybuy Pickup provides us with all of the information we need, all in one place, for a completely seamless experience. We've set a goal to have a best-in-class off-premise business, and this tool helps us get one step closer to that goal."
"The Radius Networks Flybuy platform provides our Hosts with a new level of visibility into a guest's journey to our store, significantly decreasing wait times at pickup."
"We believe the addition of Flybuy will provide additional peace of mind for our customers to safely access our offerings as curbside service is seen as one of the safest ways to access food off-premise."
"The Flybuy platform helps us better manage the influx of Giant Eagle Curbside Pickup orders being placed. Knowing our guests' ETA and receiving live location updates and arrival alerts has transformed our curbside program for both our Team Members working hard in the store fulfilling orders, and for our guests who want a speedy pickup experience. Having a system in place that enables us to ensure an order is ready and waiting when a customer pulls up is essential to our goal of meeting the increased demand with efficiency."
"The addition of Flybuy has been met with such enthusiasm from both our employees and our customers. We have already seen significant growth in our curbside business, which has had a major impact on overall sales. Flybuy Pickup has helped us operate efficiently while stores begin to reopen, and enables us to replicate the five-star experience that customers receive when they are dining in the restaurant, with fresh food and prompt service."
"As you can imagine, we are currently working on all cylinders to service our in-store, curbside, and delivery guests. Being able to reduce the guest wait time by preparing their order before they arrive is a game changer. Flybuy will be integrated with both our e-commerce and picking applications to streamline operations so there is very little disruption to the way our team members currently operate. This allows us to prioritize order fulfillment while creating a frictionless and personalized experience for our guests."
"Flybuy Tableside allows families to wander the restaurant and relax wherever they'd like instead of waiting by the counter. With this technology, our customers are having a more enjoyable dining experience."
"Table Service has ranked #1 for positively impacting customer experience."
"Click and Collect is one of our biggest initiatives, and the integration of ShopperKit and Flybuy Pickup removes friction points from the experience, not only for our customers, but also for our staff."
"The Radius Networks platform allows our guests to order food however they would like, and have it delivered quickly to their location."
"We are excited to add Flybuy Pickup to our portfolio of innovative, Food-to-Go technology solutions and look forward to having more detailed customer information in order to extend our wonderful Hooter's hospitality all the way to the curb,"
"The Radius Networks Flybuy platform gives our hosts a new level of visibility into a guest's journey to our store which is significantly decreasing wait times at pickup," says Chad Petersen, Senior Director of eCommerce at Lowes Foods. "In addition to the time-saving benefits for our guests, the geolocation data provided by Flybuy helps our Personal Shoppers spend their time more efficiently inside the store. This has a dramatic impact on our service levels and efficiency while aiding in our continued focus toward developing a more proactive operation overall."
"From a Flybuy perspective, our team members fight over who gets to bring out the order because they are bringing happiness to our guests, which is great."
"In the past, we have designated specific curbside pickup parking areas, but it consumes prime parking spots, is confusing for customers, and limits the number of customers and delivery drivers that can use the system at one time. By turning our parking lot into a serviceable area, we see an increase in repeat customers and substantially less lines and crowding in-store during peak times of the day."
"The experience was excellent for our guests, and they come back more frequently."
"Our customers are blown away by how quick and easy curbside is now! It's flawless!"